Rick Edwards
Guitar, vocals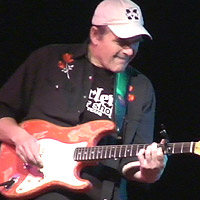 A much-in-demand, talented multi-style guitarist, Rick goes 'back to his roots' for the Sons and delivers some of the best deep-south acoustic/electric guitar you've heard for a long time plus some very tasty vocals.

In the 70s Rick lived and worked in London, playing in many outfits including Studebaker, an Anglo-American country band signed to CBS. The U.S.A. had the benefits of his talents in the first half of the 80s while he lived in Denver, Colorado and toured through Texas, Oklahoma and California in numerous blues, bluegrass, country and jazz outfits.

On his return in '84 Rick spent four years in extensive solo and session work around Bristol and Bath area. He was a well received regular at the Howlin Wolf, Naval Volunteer and Old Duke and played with Tone On Ten amongst others. At the tail end of the 80s and in the early-mid 90s Rick played guitar, harp and vocals for Piston Broke a soul blues collective based in the West-Midlands and lead/slide guitars for Blind Lemon Blues, a solid five piece act working extensively around Oxfordshire, Wiltshire, and Gloucestershire.

Since the mid 90s he has been a guitarist and vocalist with the Blueshounds, a four piece R&B outfit, well known on the SouthWest gig scene and regularly backed by the Little Big Horns. Rick also fronts Hocus Pocus Blues - a solid four piece which punches out classic Chicago and Texas blues - playing lead/slide guitar and vocals.

Rick has also opened for some of the greats including Mississippi Fred McDowell, Arthur "Big Boy" Crudup, Boz Scaggs, Paul Lamb and Connie Lush.