About the band
Sons of the Delta was formed by two of the top bluesmen in the SouthWest UK, Mark Cole and Rick Edwards. They play a no-nonsense blend of electric and acoustic blues which includes traditional blues plus new originals. Their music also features occasional sidesteps into other American roots styles such as gospel, hillbilly, bluegrass, cajun and texmex.

Achievements include a visit to Clarksdale, Mississippi where they played at a number of clubs and juke joints including Morgan Freeman's club Ground Zero. The visit also included time in Jimbo Mathus's recording studio, Delta Recording, where they were joined by Eric 'Bassfingers' Lanier and Jeff Hayes plus legendary bluesmen Sam Carr and Pinetop Perkins to record their critically acclaimed second CD, 'Made In Mississippi'.
In 2006 they returned to the USA and played on the prestigious Emerging Artist stage at the Arkansas Blues and Heritage Festival in Helena, Arkansas, and since then they have returned numerous times to play at festivals, most notably the Juke Joint Festival at Clarksdale, MS, in 2011 and 2014.
Their much loved third CD, 'Tasty Nuggets', features several special guests including Canadian blues guitarist Mike Myers from the Myers Brothers Blues Band. It was the Independant Blues Broadcasters Association's 'Album of the Month' in August 2014. This is also the first full band CD featuring regular rhythm section, Lyndon Webb and Martin Fitzgibbon. The digital EP 'Tasty Sides' released in 2015 features three more songs from the 'Tasty Nuggets' session.
'Red Hot at Peppers' is the fourth album and features Mark and Rick in acoustic duo format. It was recorded live at Peppers Cafe during the 2015 Gloucester Rhythm & Blues festival and once again has had rave reviews.
For lyrics and recording details of 'Made in Mississippi', click here
For lyrics and recording details of 'Tasty Nuggets', click here
For information about the band's trips to Clarksdale, click here
Mark Cole
Vocals, harmonica, guitar, mandolin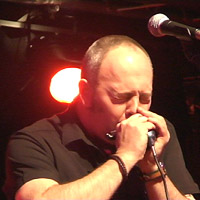 A powerful, passionate vocalist, Mark also plays a pretty mean harp and compliments Rick's playing with his own honest, uncluttered slide and rhythm guitar.

Mark's first ever gig was back in '83 playing drums with a rock & blues outfit called Little Village. Since then he has treaded the boards countless times, usually singing and playing slide guitar and blues harmonica with Gloucester blues legends Maxwell Street, or fronting renowned roots rockers the Dockery Boys.

His many talents keep him in regular demand at studio sessions covering all types of music from hard rock to folk, passing through blues and country on the way. Both in the studio and on stage he has played with or supported a great many artistes including Kent DuChaine, Alison Moyet, Dr. Feelgood, Chris Jagger (Mick's brother), Roy Wood, Ian Dench (EMF), Steve Gibbons, Mike D'Abo, Phil Beer (Rolling Stones session man), the Gutter Brothers, Richard Thompson, guitar legend Alvin Lee (at the Glastonbury Festival in 1994), Chicken Shack, Steve Marriott and Chicago Blues legend Eddie C. Campbell.

Over the years he has received critical acclaim for his vocal performance and songwriting which has been described as having "a quality and professionalism that sets it apart from so many" with an "assured melodic delivery and ability to constantly impress" (Rock 'n' Reel magazine). He writes songs across many styles both for the bands that he plays in and other performers.

Mark's influences include Bukka White, Muddy Waters, Steve Earle, Little Walter, Dr. Ross, Tom Waits, John Lee Hooker, Hound Dog Taylor, John Hiatt, Sonny Boy Williamson and Elmore James.
Rick Edwards
Guitar, vocals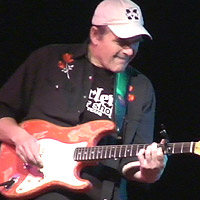 A much-in-demand, talented multi-style guitarist, Rick goes 'back to his roots' for the Sons and delivers some of the best deep-south acoustic/electric guitar you've heard for a long time plus some very tasty vocals.

In the 70s Rick lived and worked in London, playing in many outfits including Studebaker, an Anglo-American country band signed to CBS. The U.S.A. had the benefits of his talents in the first half of the 80s while he lived in Denver, Colorado and toured through Texas, Oklahoma and California in numerous blues, bluegrass, country and jazz outfits.

On his return in '84 Rick spent four years in extensive solo and session work around Bristol and Bath area. He was a well received regular at the Howlin Wolf, Naval Volunteer and Old Duke and played with Tone On Ten amongst others. At the tail end of the 80s and in the early-mid 90s Rick played guitar, harp and vocals for Piston Broke a soul blues collective based in the West-Midlands and lead/slide guitars for Blind Lemon Blues, a solid five piece act working extensively around Oxfordshire, Wiltshire, and Gloucestershire.

Since the mid 90s he has been a guitarist and vocalist with the Blueshounds, a four piece R&B outfit, well known on the SouthWest gig scene and regularly backed by the Little Big Horns. Rick also fronts Hocus Pocus Blues - a solid four piece which punches out classic Chicago and Texas blues - playing lead/slide guitar and vocals.

Rick has also opened for some of the greats including Mississippi Fred McDowell, Arthur "Big Boy" Crudup, Boz Scaggs, Paul Lamb and Connie Lush.
Lyndon Webb
Bass

Although principally our bass player, Lyndon is also a fantastic guitarist, mandolin player and more. He sings wonderfully too. So much talent in one person. The rest of us aren't jealous at all. Outside of the Sons he plays in a number of bands spanning several genres and is also an accomplished sound engineer. Needless to say he brings a wealth of experience and skill to the band - and he smiles a lot too :)

Martin Fitzgibbon
Drums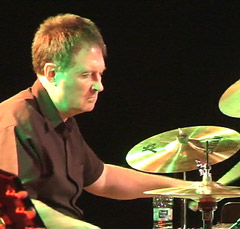 A member of the original London production of the Rocky Horror Show, with the mask and hat still to prove it! in the '90s he was drummer with Mark in acclaimed roots-rockers the Dockery Boys and now drums with the very popular festival band The Jigantics. Marty is also an in-demand session musician with hundreds of recordings to his name and has performed with and in front of, some of the biggest names in the world of popular music, Mick Jagger, David Bowie, Lou Reed et al.