Gallery
A collection of photo galleries for your enjoyment. Pour a drink, relax and dive in.
If you've booked us and you need promo photos, etc, click here
Review and Article Scans
For those of you who like to read the original magazine reviews and articles here are the ones we've managed to get scans of
Gigs and Festivals - Vol II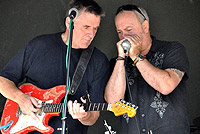 An assortment of photos taken at gigs and festivals - second batch, 2015 and 2016
Gigs and Festivals - Vol I
An assortment of photos taken at gigs and festivals up to 2014.
Mississippi April 2011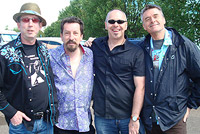 After a gap of five years Mark and Rick returned to Clarksdale MS to play at the 2011 Juke Joint Festival. Once again the boys teamed up with some great international talent - Stevie Myers from Ottawa on bass (Myers Brothers Blues Band) and Clarksdale's own Lee Andrew Williams Jnr on drums. Mark's sister and bro-in-law also came plus David Walker, sax man with one of Mark's other bands, the Maxwell Street Blues Band.
Mieres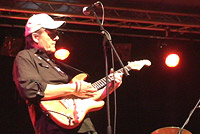 These pictures are mostly screen shots taken from the band's concert in Mieres, Spain, in March 2010. We had a great trip thanks to Santi and Fran, our road crew.
Haringe Blaublues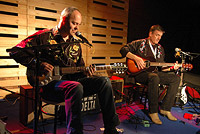 The duo took a trip over to Belgium late 2008 and played at the Haringe Blaublues blues festival. Thanks to Bobtje Blues who took most of these shots.
Mississippi October 2006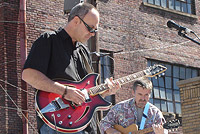 Mark and Rick returned to Mississippi in October 2006 to play at the Arkansas Blues and Heritage Festival, just over the border in Helena. They took with them 'Little' Mark Gowland, harp man extraordinaire, and teamed up again with Eric 'Bassfingers' Lanier and Jeff 'Drummerboy' Hayes.
Great British R&B Festival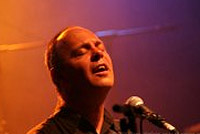 The Sons performed at Colne in 2006 on the Blues Matters! / British Stage. Well known blues photographer Tony Winfield was there and took some of these shots.
Mississippi October 2004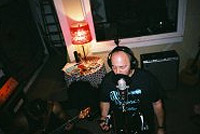 Mark and Rick's first trip to Mississippi. Features gig photos and studio photos from the recording session of 'Made in Mississippi'.